Grilled Cheese With a Twist
Prep 15 mins
Cook 20 mins

From the Parkay website. Posting for safe keeping Times are approximate. Feel free to switch up the bread and cheese suggested. Zaar would not let me list 8 - 1 ounce slices of swiss cheese
Directions
Top each of 4 slices of bread with 2 slices cheese, 2 tomato slices, 1 bell pepper ring, and 1 tablespoon olives.
Top each with remaining bread slices.
Spread outsides of each sandwich with margarine.
Place sandwiches two at a time in large skillet or griddle over medium heat; cook on both sides until cheese is melted and sandwiches are golden brown on both sides.
Reviews
Most Helpful
This was really super! I used three different cheeses, and used a little extra. I also added some fried sweet peppers and a 12-grain bread. I layered it with a slice of sharp cheddar and a slice of Monterrey Jack, the tomatoes, fried peppers, olives, and then a slice of cheddar and a slice of Muenster. It was really superb, and took a simple grilled cheese to another level. Thanks for posting this.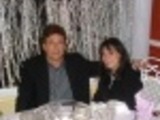 I just made the one sandwich which I thoroughly enjoyed, I used wholemeal/wholegrain bread and used a slice of red capsicum and omitted the olives as I don't really care for them and used my sandwich press to toast, so didn't use the margarine. Thank upi wicked cook 46, made for Please Review My Recipe.

Yummy grilled cheese! I left out the olives, otherwise made as directed. Loved the yellow pepper in this, great with the swiss and tomato. Thanks for sharing your recipe!