Grilled Cheese Quesadillas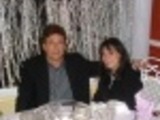 Tex-Mex Magic Weekend from Good Food Magazine, August 1986
Directions
Combine cheeses. Lightly butter sheet of aluminum foil 3-4 inches larger than tortillas. Place tortilla on middle of foil; sprinkle one-thired of the cheese over tortilla, then one-third of the scallions. Top with second tortilla and press lightly together. Fold foil loosely over edge of tortillas, leaving most of the top exposed. Repeat with remaining tortillas, cheese, and scallions.
When grill is waqrming and before it is hot enough to grill meat, place 1 or 2 foil packages, foil side down, on grill. (They can also be grilled under the broiler. Broil, foil side down, 6 inches from heat until cheese melts, about 4 minutes.) Grill until cheese melts, about 4 minutes. dlip packages and grill until top is lightly toasted, 1-2 minutes.
Immediately cut each quesadilla into 6 wedges and serve hot. Grill remaining quesadilas.
Reviews
Most Helpful
Very tasty! I prepared mine in the toaster oven first covering with foil, then uncovering to brown, as I would have on a grill. The green onion was a nice change from spicier things like jalapenos, although I did serve mine with a salsa roja/creme fraiche dip that kicked things up a bit. Thanks for sharing-

Simple & tasty! I did add some taco sauce to the quesadillas before cooking. Made for Everyday is a Holiday Tag

Oh so yummy!!! I made this for 1-2 serving, using two 6 inch flour tortillas, the cheeses and scallion, but did half of a previously prepared "Mexican Marinated Chicken Breast". This made a great lunch, served it with some sour cream and salsa and, for me, it served two!! I also did do the grill method. Thanks for sharing the recipe. Made for Holiday Tag.