Grilled Cheese, Pickle and Vidalia Onion Sandwich
Redsie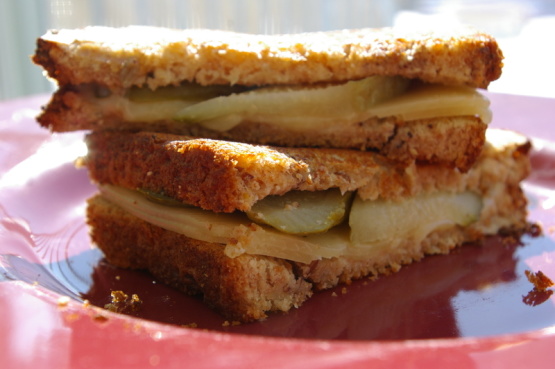 I always have pickles on the side with my basic grilled cheese sandwich so I thought they'd taste good right in the sandwich itself. I also thought sweet Vidalia Onions would taste great with it as well. I hope you like it.
2

slices whole wheat bread

1 -2

slice cheddar cheese

1 -3

tablespoon butter, softened

1 -2

kosher dill pickle (I use Sandwich Stackers, also Bread and Butter pickles work well, too)

1 -2

thinly sliced vidalia onion
Heat 1 T butter in skillet over medium heat.
Spread 1 T butter on 1 slice of wheat bread and another T butter on the other slice of wheat bread.
Place 1 slice, buttered side down, in skillet.
Place 1 or 2 slices of the cheese on top of this bread slice.
Place pickle slice or slices on top of cheese.
Place onion slices on top of pickles.
Put other slice of bread, butter side up, on top.
Fry in pan until both slices are golden brown, about 5-7 minutes.