Bayhill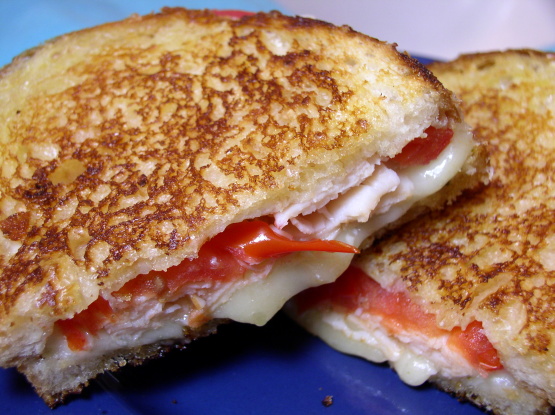 A somewhat more adult version of the classic grilled cheese sandwich.
*Made for PAC Spring '08* Yummy! We really enjoyed this variation of a grilled cheese sandwich. The pesto and provolone cheese really kicked the flavor up a notch. I used cracked wheat sourdough for the bread. Also, I didn't have any pesto sauce, so I added a small amount of pesto to some mayonnaise and this worked perfectly. I did add some tomato slices, too. My family loved this and gave it 2-thumbs up. Thank you for sharing this great recipe.
Arrange chicken, pesto, and cheese between the two slices of bread.
Spread outsides of sandwich with margarine.
Cook sandwich in a non-stick skillet on medium-high heat for about 3 minutes per side, or until cheese is melted and bread is golden brown.