Grilled Cheese, Diner Style
Ashley Cuoco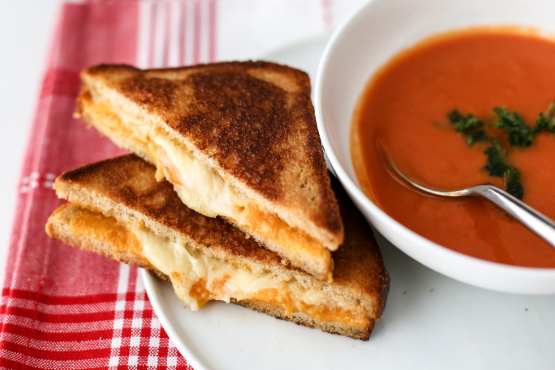 The mayonnaise in place of the butter makes the bread toast evenly and gives a similar yet different crispiness. This is how they made it on the grill at a diner I used to frequent, the kind where the grill is behind the counter and you can watch. CAUTION: using low fat or no fat mayo or even miracle whip will change the outcome of the final product, the first 2 contain water and the second sugar that does not act in the same manor as an oil or fat sub.
Who would have thought that such a simple idea would produce the prettiest, golden pieces of grilled cheese? So easy and tastes great! Thanks for sharing this wonderful idea. I've also added bacon and egg for a grilled bacon, egg & cheese sandwich. Yummy!
Heat a small skillet to medium.
Using a butter knife, spread half of mayonnaise onto one slice of the bread, place mayo side down in the skillet.
Top with cheese.
Spread remaining mayonnaise onto second slice of bread and place mayonnaise side up on top of cheese.
Cook 3 minutes, or until bread is toasty brown, turn and repeat.
Note: Miracle Whip does not work for this, as the sugar in it tends to burn.