Grilled Cheddar and Apple Butter Sandwich
Ms B.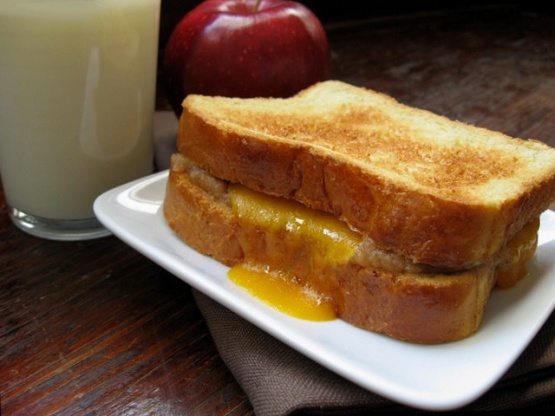 This is an adopted recipe that I found to be a nice twist on the traditional grilled cheese. The original chef's comments are as follows: "For some reason, I put a jar of apple butter in my grocery cart today (childhood nostalgia?)...I can't imagine I'm the only one in the world to come up with this, but I dreamt it up today, and I didn't see it on Zaar...so here it is! My 13-month-old daughter ate it right up and literally screamed for more! I used mild Tillamook cheddar cheese, but I think a sharp white cheddar would be amazing, too. Take care to toast it *s l o w l y* neglected (burnt) grilled sandwiches that are "scraped off" and presented scraped-side-down on the plate, are a dirty trick IMHO."

This recipe makes an amazing sandwich! I used a whole grain bread and sharp yellow cheddar. Thank you.
The sandwich is assembled in a cold, non stick skillet.
Butter one side of first slice of bread and place butter-side-down in skillet.
Place one slice of cheese on bread, then 1 Tablespoon apple butter in the center of the cheese.
Top apple butter with second slice of cheese.
Butter one side of second piece of bread and place butter-side-up on last slice of cheese.
Turn on heat to medium/low heat.
Toast each side*s l o w l y* and carefully to achieve a gooey inside and toasty-golden outside.
Eat and repeat!