Chilicat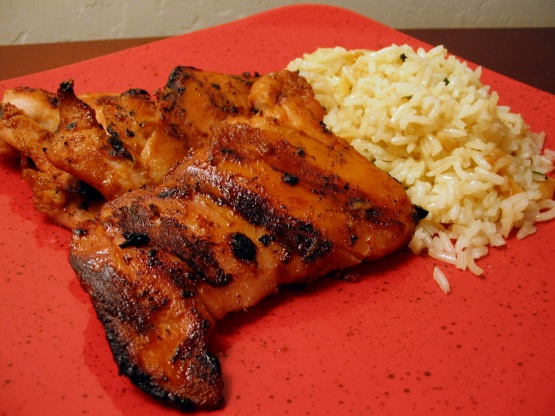 This is best if allowed to marinate overnight. Use any pieces of chicken that you like - skinless is best as the flavor really gets into the meat more. This recipe is from another 'Zaar recipe but that one used a slow cooker and pork.

Loved it & so did very picky friend! I ground 2 5spice stars finely in goffee/spice grinder & decreased hoisin sauce to 3T. Used the last of the ketchup - rinsed the bottle with an additional 1/4 cup of water to get it all. Marinated 14 thighs (with skin & bones) for about 2 hours & then grilled over indirect heat until done - tender meat & crispy skin, all mildly sweet & perfumed with 5 spice & ginger. Wonderful delicious recipe that I will use again. Thankyou SLColman.
Combine everything except the chicken in a large bowl.
Add the chicken and mix well to ensure that all the pieces are covered with the sauce.
Marinate at least 2 hours preferrably overnight.
Grill until the chicken is cooked through about 20 to 30 minutes.