Grilled Catfish with Homemade Salsa
Derf2440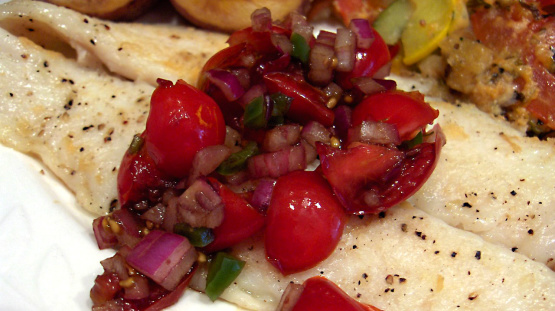 A fast, easy, cookout favourite. Serve with grilled potato and veggie kabob, and Mexican cornbread, or tortillas.

Loved it, the salsa really set off the catfish, It was nice to have catfish without a coating for a change, lovely with just salt and pepper. I couldn't grill the fish, had to do it in the frypan, just sprayed it with veggie spray, worked great! The salsa was wonderful, I used chopped cherry tomatoes and balsamic vinegar because that was what I had in. Had some left over and will use it up with lunch tomorrow. Thanks for posting we thouroughly enjoyed this meal!!
Sprinkle catfish with garlic salt and pepper.
Place catfish in a well-oiled grill basket, or on a well-oiled grill rack.
Grill on an uncovered grill directly over medium-hot coals for about 5 minutes per side, or until fish flakes easily.
HOMEMADE SALSA: In a bowl combine tomatoes, onion, jalapeno peppers, vinegar and salt and stir well Let stand at room temperature for about 30 minutes before serving.
Chill to store.
Serve over catfish fillets, hot off the grill.