Grilled Caribbean Coconut Shrimp With Rum Marinade
Jostlori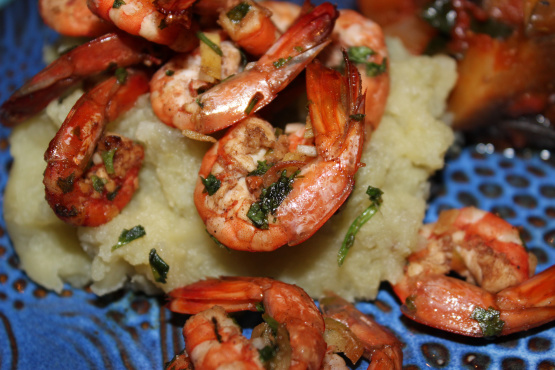 Taken from chilicheesefries.net; posted for ZWT 5. "This recipe is fantastic for any time you want to cook out with Caribbean inspired flavors such as rum, allspice, citrus, cinnamon, Scotch bonnet peppers and cilantro. While not quite jerk, the influence is definitely there. I love to serve these freakishly good tasting grilled shrimp over a bed of mashed sweet potatoes topped with fresh grilled pineapple slices that have been marinated in dark brown sugar. Serve all this up with a few pitchers of mojitos and you may think you are on vacation or at least just wished you were. Pass the rum please."

Yummo!!! I could drink the marinade and be happy! LOL... We'll be trying these again real soon, because I goofed and defrosted a baggie of small shrimp, which cooked up tiny and tough. But, they WERE flavorful! (therefore, sorry for the pitiful picture!) Did as you suggested and served over sweet potato mashed (Lavendar Lynn's). Very nice! Thanks for posting! Made for ZWT9 for team Gourmet Goddesses.
Mix the marinade ingredients in a nonreactive bowl
Then add shrimp and marinate for at least 10 minutes but no longer than 30.
Preheat grill to medium heat and grill shrimp for about 2 - 4 minutes per side, being careful not to over cook them as they will become tough and chewy.
ENJOY!