Grilled Caribbean Chicken (Guy Fieri)
CarolAT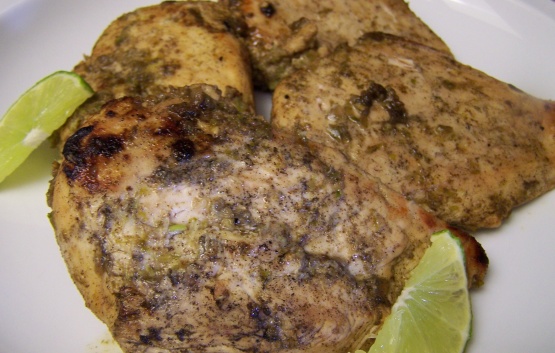 Orange juice,lime zest, jalapenos and ginger brings those chicken breasts to life. This meld of flavor comes from Guy Fieri at the food network and posted for ZWT5.

Terrific! I used thighs for this recipe and they came out moist and very flavorful. I grilled vegetables with the chicken and we had a great dinner. Thanks for sharing the recipe.
Puree all ingredients (except chicken) in food processor.
Marinade chicken in processed mixture in a zip-lock bag, refrigerated 4-8 hours.
Preheat oven to 350 degrees.
Heat grill to high, remove chicken from marinade, cook on grill 3-4 minutes each side.
Return to heated 350 degree oven in an ovenproof dish, cook 15 minutes.
To serve, squeeze a lime wedge over each piece, serve on a bed of rice or as desired.