Grilled Caribbean Chicken (Guy Fieri)

Orange juice,lime zest, jalapenos and ginger brings those chicken breasts to life. This meld of flavor comes from Guy Fieri at the food network and posted for ZWT5.
Directions
Puree all ingredients (except chicken) in food processor.
Marinade chicken in processed mixture in a zip-lock bag, refrigerated 4-8 hours.
Preheat oven to 350 degrees.
Heat grill to high, remove chicken from marinade, cook on grill 3-4 minutes each side.
Return to heated 350 degree oven in an ovenproof dish, cook 15 minutes.
To serve, squeeze a lime wedge over each piece, serve on a bed of rice or as desired.
Reviews
Most Helpful
Terrific! I used thighs for this recipe and they came out moist and very flavorful. I grilled vegetables with the chicken and we had a great dinner. Thanks for sharing the recipe.

Great recipe! It's simple yet full in flavor. I really loved the blend of allspice, fresh thyme, jalapenos, ginger, lime, orange juice and garlic, etc... Easy to throw together the marinade. I loved that for dinner, all I had to do was pull it out of the marinade and grill. We did finish it off in the oven, but I think it'd be just fine without that step. I used boneless/skinless chicken breasts but I would love to try it with bone in legs and thighs next time. Delish! ~Made for ZWT5 Family Picks for the Epicurean Queens~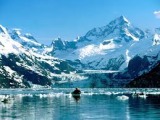 Made for ZWT5... This was delicious. The combination of all of the big flavors was fabulous, and my kitchen smelled of this for hours after putting everything into the blender (except the chicken, of course!!!) Because there are so many bold flavors in this, there is no real standout, but the zingy spiciness of the allspice, red and green onions, orange juice, lime zest, soy sauce (and teriyaki in my case, as I ran out of soy...), thyme, ginger, and garlic made great big flavor!!! I think I'll be trying this again with a long soak on chicken tenderloins.