Grilled Cabbage by Richard
jenne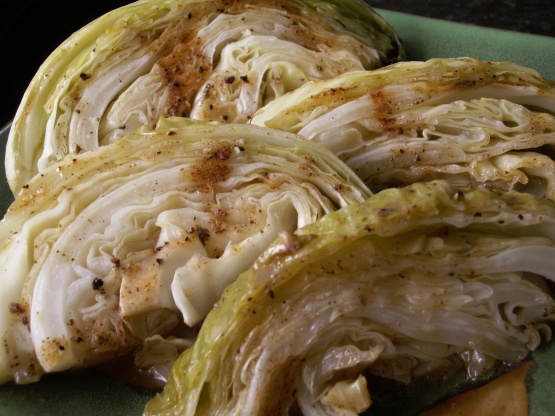 Who's Richard you say? He's one of my dear friends and he told me of this recipe a few years ago. Super simple, tasty, low calorie and inexpensive too.

I am not star rating this because the cabbage was not grilled but cooked in the oven.
It's best to use the technique indicated in the recipe. Tasted good though! Added a small amount of small salt, olive oil, black pepper. Easy to make! Reviewed for Veg Tag/April.
Place each wedge in a separate piece of foil.
Dot with butter and sprinkle with seasoning salt. If you like, you can drizzle with very small amt olive oil and top off with cracked black pepper.
Close up the foil, making 4 small packages.
Grill on medium (mine registered at 400) for 10-15 minutes.
Remove from grill and let rest for 3-5 minutes to let the juices reabsorb, then remove from foil, pour any remaining juices on top and enjoy!