Grilled Butterflied Leg of Lamb with Lemon, Herbs and Garlic
JustJanS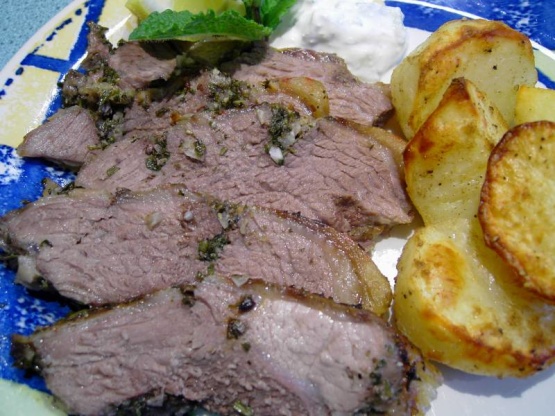 I went to a cookout last weekend and this was the main dish. This lamb was perhaps the best I've ever tasted. Juicy, succulent, and full of flavor thanks to the herbs garlic and lemon. I begged the host for the recipe, and here it is for you. Note: I would cook this a little longer for medium meat...just my preference. Also, you might want to secure the meat lengthwise with 2 skewers and widthwise with 2 skewers so it doesn't fall apart on the grill.

Top Review by Smokem
This turned out very good. I put the herb rub on at about 8 in the morning and put it back in the fridge for 4 hours. I cooked it on the grill for 40 minutes, 25 on one side, then flipped it for 15 on the other. Turned out nice. Thicker parts were rare, thinner parts were medium. All had a good flavor. I used a 12# leg that once deboned and butterflied was still about 9#. Begore grilling I cut it into 3 sections for ease of handling. This really helped things.
Make herb rub: Finely chop garlic and in a small bowl stir together with remaining herb-rub ingredients.
Put lamb in a large dish and with tip of a sharp knife held at a 45=degree angle cut 1/2-inch-deep slits all over lamb, rubbing herb mixture into slits and all over lamb.
Marinate lamb at room temperature for 1 hour.
Prepare grill.
Lightly pat lamb dry.
On a lightly oiled rack set 5 to 6 inches over glowing coals grill lamb about 10 minutes on each side, or until an instant-read thermometer inserted into thickest part of meat registers 125 for medium-rare.
(Alternately, roast lamb in a roasting pan in middle of a 425 oven about 25 minutes, or until an instant-read thermometer horizontally inserted into meat registers 125 for medium-rare.) Transfer lamb to a cutting board.
Halve and seed lemon.
Squeeze juice over lamb and let stand, loosely covered with foil 15 minutes.
Cut lamb into slices and serve with any juices that have accumulated on cutting board.