Grilled Buffalo Potato Wedges
teresas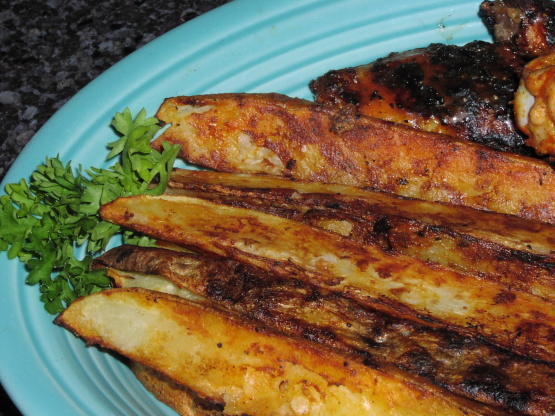 Potatoes on the barbecue grill made with ingredients for Buffalo wings. These are awesome!

We loved this...I do have to admit to cheating...I cooked the potato until almost done in the microwave before throwing it on the grill...saved a lot of time...I also cut the recipe down to one large potato for the two of us and it gave us each 4 nice pieces..they had just the right amount of heat but next time I plan to add extra hot sauce...no blue cheese for us...thanks for posting the recipe...made for "I recommend" tag game...=)
Preheat barbecue grill.
Mix butter, vinegar, pepper sauce, and salt in shallow dish.
Cut each potato lengthwise into 4 wedges. Pat dry with paper towels.
Dip potato wedges into butter mixture and reserve any remaining butter mixture for basting.
Cover and grill potatoes over medium heat 25 to 35 minutes, brushing occasionally with butter mixture and turning once or twice until tender.
Serve with blue cheese dressing, if desired.