Grilled Buffalo Chicken Salad Sandwiches or Pitas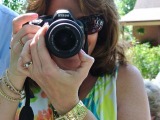 I had some leftover grilled chicken breast to use up. This what I came up with.
6 -8 ounces grilled chicken breasts, diced
2 tablespoons mayonnaise (light is fine)
2 teaspoons barbecue sauce (as mild or as hot as you like)
1 -2 tablespoon blue cheese (reduced fat fine) (optional)
2 -4 lettuce leaves
2 pita pockets or 2 sandwich buns
Directions
Combine the chicken, mayonnaise, BBQ sauce; mixing well. Add blue cheese crumbles and stir gently.
Place mixture in pita pockets or on sandwich buns and top with lettuce.
Reviews
Most Helpful
Easy, inexpensive, fast, and delicious!
I too was confused with the title "Buffalo Chicken". So what I did was turn the amounts around. I mixed the mayo & Franks Wing Sauce together. I placed it in a bowl lined in lettuce and drizzled the barbecue sauce on top. I served it as an appetizer with tostito scoops. It was delicious. My family actually got a separate bowl of the barbecue sauce and drizzled on each scoop as they ate it. Nice, refreshing and easy. Thank you.
This get 5 stars for being so easy and tasty even if it doesn't scream "buffalo chicken." I never thought of mixing BBQ sauce with mayo and the combination was delish! I added in enough hot sauce to satisfy my taste buds and ate this on sandwich buns. Will definitely make again! Thanks for posting Made for Zaar Cookbook Tag.

Summer Central