Grilled (Broiled) Tomatoes With Smoked Salmon
lazyme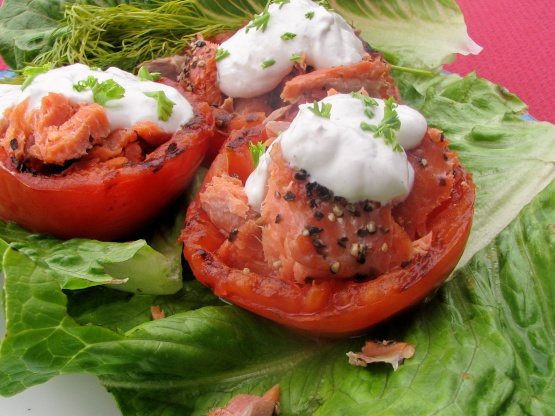 I submitted this recipe to Better Homes and Gardens in 2004 and it was published! Perfect when you have an abundance of ripe tomatoes in late summer.

Top Review by lazyme
Wonderful! I made 1/2 of the sauce and used cracked peppercorn smoked salmon. Both DH and I were making mmmm sounds while eating this. I have plenty of sauce left and am planning on adding it to baked potatoes or over veggies. Can't wait to serve this to guests. Thanks Spit in Soup for another great recipe. Made for PAC Spring 2008.
Preheat grill or broiler – ready for use at med high heat.
Blend sour cream, shallot, dill, salt, pepper, wine and horseradish and set aside.
Split tomatoes in half. In the top of each half, scoop about 3 T of the seeds and pulp out of center. Sprinkle each half with salt.
Place tomatoes on grill or broiler cut-side down. Wait 5 minutes and turn tomatoes over. Place 1 T butter in cavity of tomato. Wait till butter is melted, about 5 minutes. Remove from grill/broiler.
Add 2 T Smoked salmon to cavity, put 2-3 tablespoons sour cream sauce over salmon and tomato. Sprinkle with minced parsley and serve.