Grilled Beef Tenderloin Steaks in Balsamic Marinade

This is a very simple but delicious marinade. The balsamic vinegar gives the grilled steaks a deep, rich color and flavor which nicely compliments the natural flavor of the steaks. Bon Appetit, July 1998.
Directions
Puree vinegar, oil, shallots and rosemary in blender until almost smooth. pour into 13x9x2 inch glass baking dish. Add steaks; turn to coat with marinade. Cover and refrigerate at least 6 hours and up to 1 day, turning steaks occasionally.
Prepare barbecue (medium-high heat). Remove steaks from marinade; sprinkle with salt and pepper. Grill steaks to desired doneness, about 6 minutes per side for medium-rare.
Most Helpful
Fabulous! I always get nervous trying a new marinade on tenderloin steaks, since they are so pricey, but this just sounded so good. I made the marinade exactly as posted, except I added some fresh chopped parsley as well. The steaks actually marinated about 17 hours before I grilled them and they came out wonderfully. The meat was tender and flavorful, and my guests really enjoyed them. Thanks for making my dinner party a success!! Made for Please Review My Recipe Tag Game.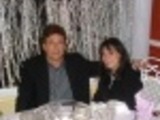 Loved this marinated steak!!! I did make it a little differently, as I scaled it back for one steak and I really dislike rosemary, so left it out and I used a ribeye steak. I marinated it for 5-6 hours and then while grilling it in the beginning, basted the steak with the marinade. Find I am really loving the flavor that balsamic vinegar lends to meat and this was no exception, wonderful flavor!!!
Thanks for sharing your recipe. Made for Stars Tag Game.
Thank goodness I tasted this before I brushed it on my steaks. It tasted horrible. I'd used the last of my balsamic vinegar so I couldn't just toss it and start over again (which I would have preferred to do), so I added some honey. I'll update after I grill the steaks, but for pity's sake, don't use this recipe as written. Doctor it up. A lot.