teresas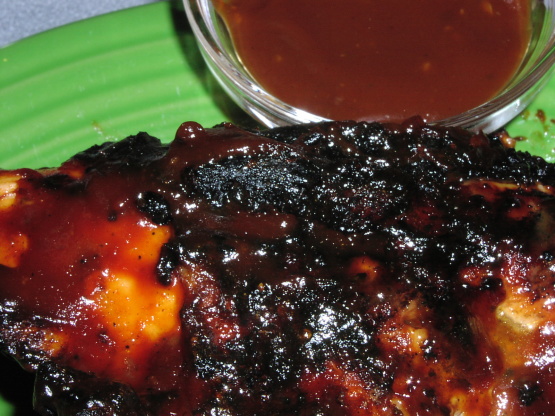 Very time consuming, but well worth it!

We loved this! It really isn't time consuming at all. The sauce is sweet but not overbearingly. I cut the recipe down to serve 2 and it worked great. I did use the bone-in skin on chicken breast. That's all we ever eat. I had enough sauce leftover to serve it on the side for dipping. Served recipe #241749 along side for a wonderful finish. Thanks for posting. :)
Place chicken on a rimmed baking sheet.
Make spice rub: Sprinkle spice mix and rub onto chicken.
Cover with plastic wrap and chill for at least 6 hours.
Make sauce: Combine all ingredients in a large pan. Bring to a boil, stirring continuously. Simmer, uncovered, for 15 minutes, stirring occasionally, until thickened. Remove from heat.
Preheat grill to medium low; oil when hot.
Cook chicken for 10 minutes, turnover and cook for 8 minutes longer.
Brush sauce on one side of the chicken, turn over and cook for 3 minutes.
Brush remaining side with sauce, turn over and cook for 3 minutes, or until cooked through.