Grilled Balsamic Vegetables
Kree6528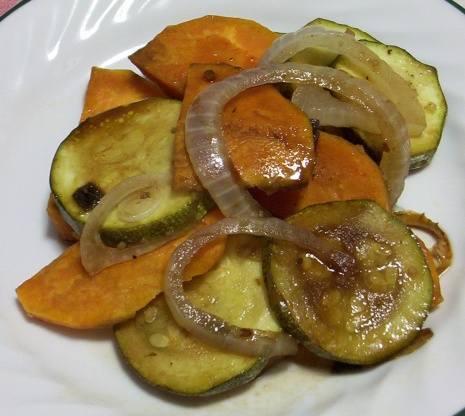 This grilled dish, made with sweet potatoes and zucchini, gets its wonderful flavor from balsamic vinegar. It's easy to cook because you just pop it all into a foil packet. The amounts of vegetables can easily be increased for more people, since it has plenty of juice. I also enjoy making this with regular potatoes! This was created for RSC #6.

Discovered this recipe a few weeks ago and have been making it weekly since. DH finished off the leftovers I had been saving for after a late night at work and I almost cried! (seriously!!)Love the combination of veggies. I also add red pepper rings, and slice the sweet pot VERY thin and the zuchini a little thicker on a bias, and it turns out perfectly every time! Have also used dried sage (1/2 T)mixed in with the sauce in place of fresh and that worked fine too.The colors do get a little washed out but who cares-it tastes GREAT!! Absolutely Love this very easy tasty healthy dish!!
1

large sweet potato, thinly sliced (if it's too big you can cut the slices in half)

1

large zucchini, thinly sliced

1

medium onion, sliced and separated into rings

2

tablespoons balsamic vinegar

1

tablespoon olive oil

1

tablespoon honey
1⁄2 teaspoon lemon juice

1

garlic clove, minced

1

tablespoon fresh sage, chopped (or more to taste)
salt and pepper, to taste
Preheat grill to medium-low.
Arrange sweet potatoes and zucchini in a Reynold's Hot Bag (or in the middle of 2 layers of heavy duty aluminum foil), alternating potatoes and zucchini.
Place onions on top.
In a small bowl, whisk together the balsamic vinegar, olive oil, honey, lemon juice, and garlic; drizzle over the vegetables.
Sprinkle vegetables with sage, salt, and pepper.
Seal the Hot Bag (or wrap aluminum foil tightly) and place onto preheated grill.
Cook with hood closed for 30-40 minutes or until the vegetables are tender when poked with a fork.
The Hot Bag can also be placed on a cookie sheet and baked in a preheated 375 degree oven for 30-40 minutes.