We like our "baked" potatoes on the grill. They come out so fluffy and good. Try it and see what you think!!
Directions
Each potato is going to need 2 wraps of foil so if you are grilling 4 potatoes, you will need 8 pieces of foil.
Scrub potatoes clean and poke holes all around potato. Brush olive oil over the potato. ( I just use my hands).
Wrap potatoes in foil tightly.
Place on the grill (if using a gas grill, place on top). Leave them there for an hour, turing at the 30 minute point.
Remove from grill and enjoy with whatever toppings you like.
This is what I do, I put my potatoes in first, then corn (for grilled corn) and then my meat (chicken, steak, whatever you like). It all cooks in the grill and ready at the same time.
Try it and see what you think -- .
Reviews
Most Helpful
I have made these a few times now and love them. I only use one Reynolds wrapper for each potato and I don't use the olive oil. We love them!

What a great way to make baked potatoes without heating up the kitchen in the summer! Since I use charcoal and it doesn't stay really hot for an hour, I cooked my 2 potatoes for 5 minutes in the microwave and then wrapped them. I wanted to make sure they would be done. Next time I might try not precooking one just to see if that works. After brushing the potato with olive oil, I also salted them. They tasted wonderful! Thanks so much for posting!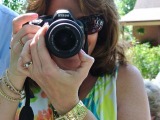 Great idea! I had a bunch of XL potatoes jammed together on the top shelf of my gas grill, and they took much longer than 1 hour to cook, even at over 400 degrees (according to the gas grill temp indicator). Delicious!
Get Healthy Your Way