Grilled Bacon Wrapped Chicken (In Foil)
lazyme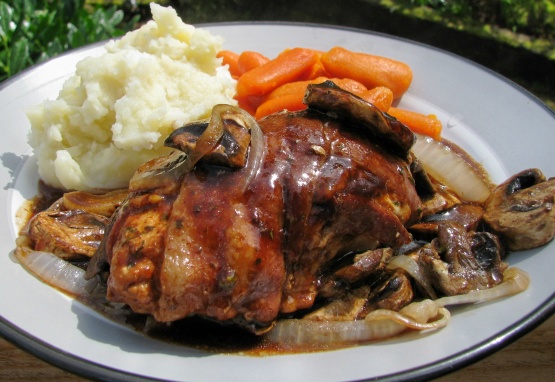 Excellent choice for the grill lover! Great choice for a barbecue or anyone who loves chicken! It's a fairly simply recipe, but it comes out so tasty! Jalapenos are completely optional-- I prefer mine without, but it seems to go over great with those who love some spice!

Top Review by lazyme
Great chicken! I ended up cooking mine in the oven at 350 for about an hour because it was pouring rain outside. I used a chicken quarter and didn't have jalapenos but will sure use them next time I make this. Thanks Ashley for a nice keeper. Made for Bargain Basement Tag.
On four large sheets on aluminum foil, place 4 slices of bacon in the center of each.
Evenly divide onion slices, and neatly place on top of the bacon slices (add jalapenos and/or mushrooms on top of the onions).
Place the large chicken pieces on top of the onions (and other vegetables) and add salt, pepper and garlic.
Smother chicken in sweet baby ray's barbecue sauce (1/4 cup to each chicken thigh--- add more if desired).
Wrap chicken in tight foil packets; double wrap for extra support.
Place wrapped packets on hot coals; Cook for one hour, turning over ever 25 minutes.
Let sit for 10 minutes once you remove from grill (be very careful when opening-- very hot!).