Grilled Baby Lamb Chops With Orange-Mint Yogurt Sauce
NNChick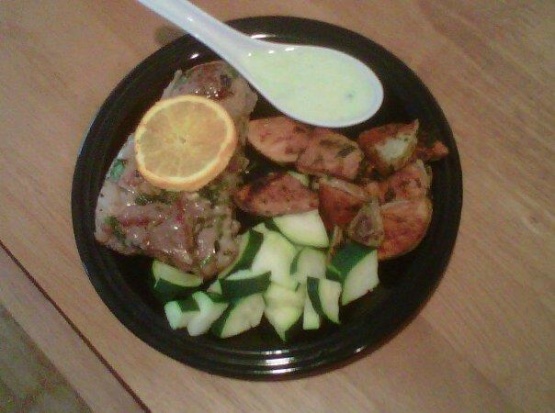 DH and I took advantage of the nice weather yesterday and made these grilled lamb chops for dinner. The recipe is from Bobby Flay's "Boy Gets Grill" cookbook. While the recipe calls for baby lamb chops, Bobby says you can use regular lamb chops, too. DH and I used lamb loin chops and halved the recipe to suit 4 chops (the sauce, when halved, made enough for 6+ chops). Follow the recipe's proportion for the garlic. I am always heavy handed with the garlic since we love it, but it was a little strong in the sauce when I used more than required. Prep time includes refrigerating the sauce.
Stir all the sauce ingredients together and refrigerate for at least 30 minutes before serving (the sauce can be made a few hours in advance, covered, and kept refrigerated).
Heat your grill to high.
Brush the chops on both sides with olive oil and season with salt and pepper. Grill until lightly charred and crusty, 3 minutes.
Turn the chops over, reduce the heat to medium or move to a cooler part of the grill, and grill until just cooked through, 2-3 minutes more.
At the same time, grill the orange halves cut side down until heated through and lightly charred, 3 to 5 minutes. Remove and cut each half in half.
Serve the chops immediately, garnishing each plate with yogurt sauce, an orange quarter and fresh mint. Squeeze the oranges over the chops before eating.