Grilled Autumn Vegetables
sbhende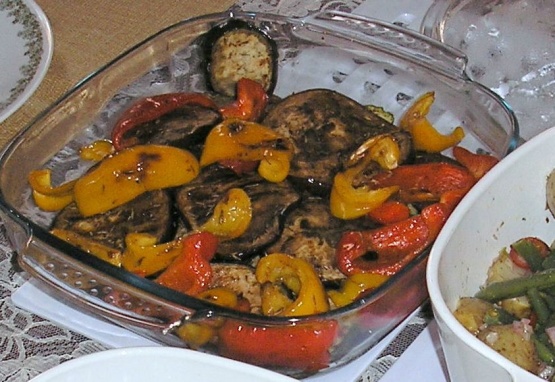 Not tried this yet, but I'm always looking for easy and tasty grilled veggie recipes.

This was such a good recipe, and it was thoroughly enjoyed by the entire family. I did have to do this in batches, as my barbeque wasn't big enough to grill all the vegetables.
Cut aubergine into 1cm thick slices. Steam for 4 minutes.
Cut courgettes diagonally into 5 mm thick slices; brush with 5 ml of the oil.
Seed and cut peppers lengthways into 8 pieces.
Grill vegetables, in batches if necessary, under high heat for 4 – 6 minutes on each side or until tender but firm. Transfer to a serving bowl.
Whisk together remaining oil, vinegar, thyme, water and salt and pepper to taste. Pour over hot vegetables and toss to coat.
Vegetables can be covered and refrigerated for up to one day. Serve at room temperature.