Grilled Aubergine With Feta and Mint Bundles
Pneuma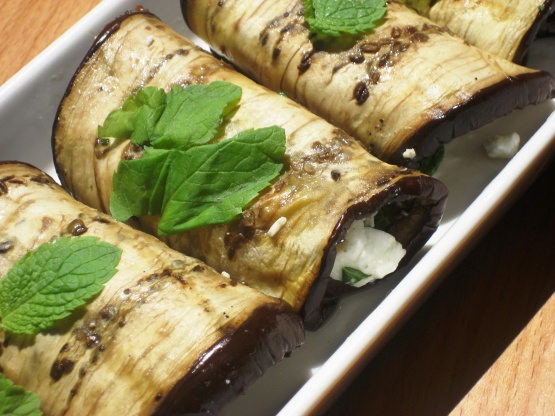 This dish can be served as a starter or alongside a lamb dish. But please note, this dish has to be made at the last minute or else they will go soggy.

Top Review by Pneuma
mmm..yummy! I omitted the chili though as I mixed all ingredients. How can I not love this, Eggplants (one of my fave veggies), feta (yum!) and mint (even used to grow this!) and grilled! Blended together, the filling was a bit feta-ish with a minty flavor. The lemon enhanced the flavors and didn't make it sour at all. Delicious! Thanks for sharing this, A! :)
First of all, wipe clean the aubergines, trim off the stalk ends and slice them thinly lengthways into 16-18 thin slices altogether.
Brush both sides of the aubergine slices with oil.
Pre-heat your grill/griddle to the highest setting, and when hot, cook the slices for about 2-3 minutes on each side till they are golden and soft.
In a bowl, crumble the feta cheese and add in the chopped mint, chopped chilli and lemon juice and season with black pepper (there is no need to add salt since Feta cheese is quite salty by itself) and give it all a good stir.
Place a heaped teaspoon of the cheese mixture along the centre of the aubergine slices and roll up each slice to form a bundle.
Place the overlapping ends down onto a serving plate, and sprinkle with a little more mint.