Grilled Asparagus With Lemon-Caper Vinaigrette
Rita1652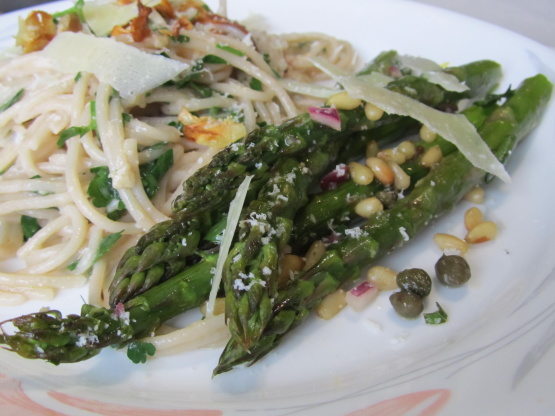 Recipe found on a a bunch of asparagus purchased at the grocery store recently. Very easy to make. This recipe has been prepared twice now-first time with shallots, omitting the Parmesan cheese and the second time with red onion (use red onion if you want a more pronounced onion flavor and for added color). Can be served warm or at room temperature. Skip the cheese for a vegan version. From dole.com.

Mmmmm, this made me happy! I made this exactly as written, only scaled down to 1 serving as DH has a phobia of asparagus. I used the grill pan since it's too hot to go outside. I think the vinaigrette would also be really good on roasted broccoli or Brussels sprouts. Thanks for sharing, Cookgirl!
Vinaigrette: Combine the shallots, lemon zest and lemon juice, capers, and parsley in a small non-reactive bowl.
Whisk in the olive oil; season with taste with salt and pepper.
Set aside.
To prepare the asparagus: Brush the asparagus with olive oil; season with salt.
Grill (I used a stove top grill pan) over medium-high heat, turning often to brown evenly. Grill asparagus until just tender, approximately 8-10 minutes.
Transfer asparagus to a platter.
Drizzle vinaigrette over the asparagus, sprinkle with pinenuts and top with Parmesan cheese.