ImPat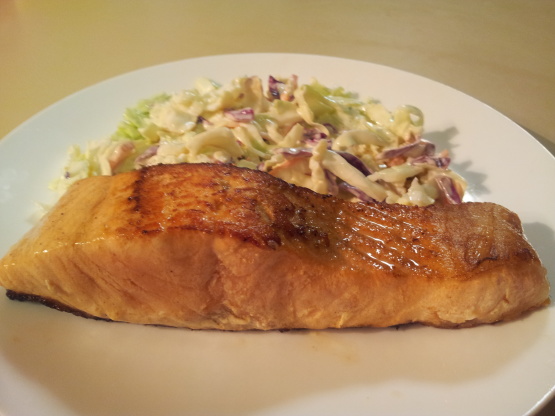 From Mayo Clinic's Essential Heart Guide 2012. One of my photos shows wild salmon marinating; wild salmon is much better for you than farmed salmon, and I think it tastes better, too. Nutrition info: 190 calories, 11g total fat, 60 mg cholesterol, 200 mg sodium, 0 g fiber.

Really enjoyed the mix of flavours in this. I used trout instead of salmon, so technically maybe this review doesn't apply, but I'm almost sure the flavours would go equally well with salmon.
In a shallow glass dish, combine sesame oil, soy sauce, ginger and vinegar.
Add salmon and turn to coat all sides. Refrigerate for 30 to 60 minutes, turning occasionally. Preheat the grill to medium-high heat.
Lightly oil the grill and place the salmon on the grill. Grill about 5 minutes per side. Test for doneness by placing a knife blade into the center to see if the pink flesh has become opaque.
Serve warm.