Grilled Asian Flank Steak
Rita1652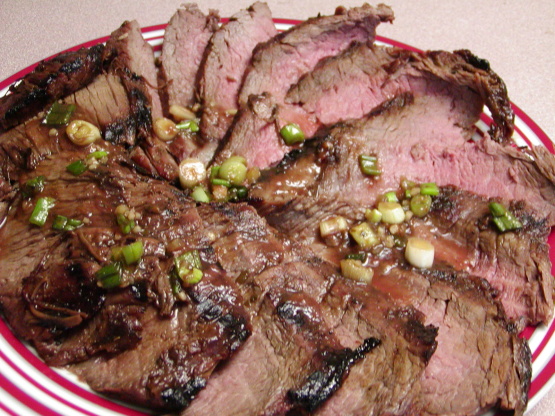 Pinot Noir from Oregon's Willamette Valley goes great with this fruity grilled, tender sweet and spicy steak. Wrap it in a tortilla or over rice.

We had this last night, and tonight again as left-overs. Great flavor that was even better on the second night. Thanks Rita!
Combine all marinade ingredients in a storage zip lock bag. Mix well.
Add flank steak and refrigerate for 3 to 6 hours, turning occasionally to distribute marinade.
Remove flank steak from the marinade. Reserve marinade. Place steak in center of cooking grate and grill for 12 to 16 minutes, or until desired doneness, turning once halfway through grilling time. Occasionally brush lightly with remaining marinade while grilling. Remove steak when done and hold in a warm place for 5 to 7 minutes. Slice thinly on the bias for serving.
Meanwhile, bring remaining marinade to a boil and simmer for 5 minutes. Pour over steak.