grilled asian duck breasts
Peter J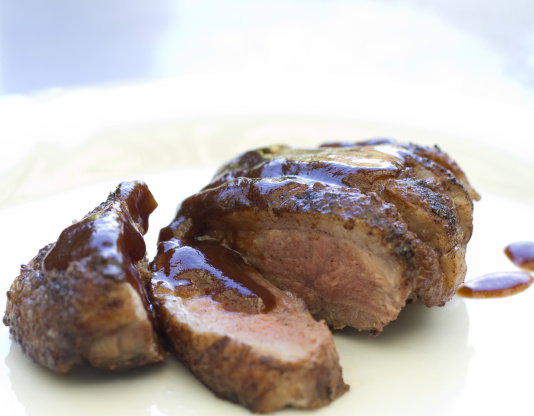 i love this with spicy tamari noodles and jasmine rice. an asian slaw and lime sorbet, and you have an easy summer dinner

This breast recipe was easy to prepare and had a lovely sauce, it was a bit like the sauce you get served with Peking Duck. The five spice powder was not overpowering. I did add some chili oil to the sauce at the end for a spice kick. I did not use the grill, but prepared the breasts in the frying pan, skin side down for about 10 minutes, emptied the fat from the pan and then a few more minutes on the skinless side.
preheat grill.
trim fat from breasts to 1/4 inch.
score in a diamond pattern, rub in salt and 5 spice powder.
meanwhile make sauce ingredients and simmer
put duck breasts on grill fat side down, grill for 10 minutes
turn over and grill, then slice thinly and serve with sauce.