Sageca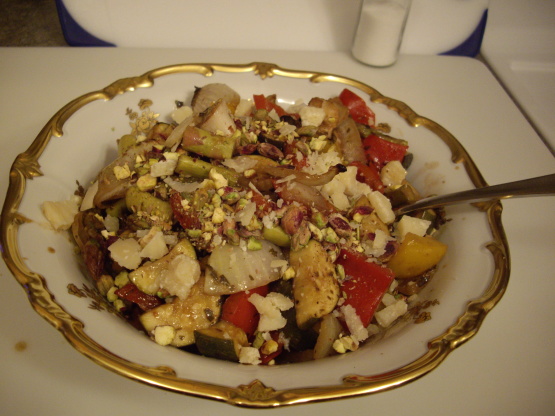 This recipe originates from Emeril but I make with our favourites. I served these with MizzNezz's Grilled Ham With Glaze. Great combination!

Another great one, Rita!! We absolutely LOVED this grilled veggie dish!!! The marinade is out of this world and the dish is versatile enough to accompany a variety of main dishes. I served mine with braised chicken, but I could see this going particularly well with a variety of grilled meats. I followed all ingredients and directions as posted. My only regret was that I didnt double the recipe because I served this 6-serving recipe to 5 people and it was so quickly devoured that I didnt get my seconds! My aunt remarked that she just could have just eaten the veggies for a meal, she found them so delicious. This recipe is definitely a keeper that I will enjoy many more times to come. Thanks! Made for ZWT4.
In a bowl, whisk together the oil, vinegar, lemon juice, garlic, basil, parsley, oregano, thyme, salt, and pepper flakes to make the marinade.
Place the zucchini, asparagus, onions, and bell peppers in a large bowl and toss with the marinade, to coat. Let marinate for at least 1 hour and up to 2 hours.
Preheat the grill to very high heat (alternately, preheat the broiler).
Remove the vegetables from the marinade and lay on the grill, in batches if necessary. Grill over very high heat until marked, about 1 minute per side.
Remove with tongs and place on a platter to cool slightly.
(Alternately, arrange in 1 layer on a large baking sheet and broil until beginning to char, 2 to 3 minutes per side.).
Sprinkle the vegetables with the cheese, pine nuts, and basil. Serve with the bruschetta or as a salad.
Use whatever vegetables you prefer.