gailanng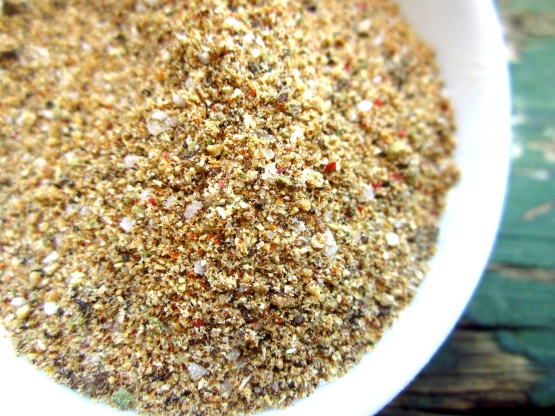 Lately I've seen a lot of recipes that call for grill seasoning. Besides the cost (nearly $5 for a bottle), it's chock full of MSG and other nasties. Taking a tip from Rachael Ray, I've made my own and use it for anything I'm grilling or want to give a grilled taste to. UPDATE: Monstr pointed out there's no MSG in McCormick's grill seasoning. There is, however, hydrogenated oil in it, and MSG can be found in other brands. So read your labels, and if MSG, hydrogenaged oils or the price tag bother you, mixing your own is the way to go.

This was wonderful. I did add a bit more every time I turned the chicken breasts. Simply delicious. McCormick Grill Mates Montreal Steak Seasoning is $2.09 for 3.4 oz. You can make the same amount with this recipe for less than fifty cents. Tastes great AND saves money!
Mix all ingredients together well and store in an airtight container.
Use it for anything you're grilling or when you're looking for a grilled taste.
Note: Corriander can be replaced with any herb you like. This is the one I hear called for most often. Experiment!
Another note: This is a 3:1 ratio, for the most part. Make any amount, just allow for 3 parts pepper, 1 part each of salt, onion powder, garlic powder and corriander, and 1/3 part crushed red pepper flakes. Using tablespoons, this makes enough for 7 or 8 meals under normal usage.