Grill a Juicy Burger With the Only Rub You'll Ever Need!
gailanng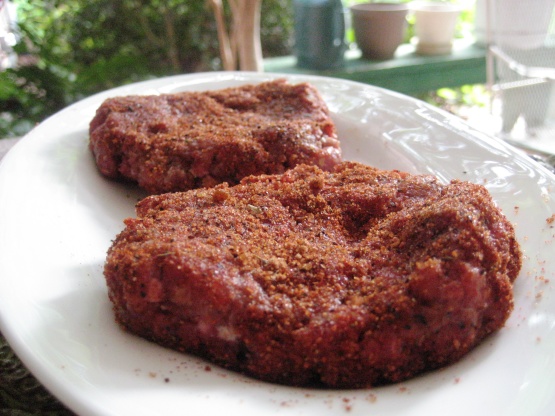 Want to ensure juicy great tasting burgers for barbecuing? Try this! This is a basic recipe, actually more of a technique. Season with the rub to kick it up, or use your own. From Woman's Day magazine, they say to feed your friends and you'll get a reputation for the best burgers in town.

These really are the best burgers! DH made them using his grill pan and we enjoyed wonderful moist and juicy burgers. They keep their shape and do not fall apart when handling which is a big plus. The spice rub has great flavor but does not overwhelm the beef. I always have the rub ingredients on hand so I can make it anytime. This would be great on a pork tenderloin. Made and reviewed for KK's Going Green For March Tag Game.
Combine sirloin with the ground chuck and crushed ice.
Divide into 5 quarter pound patties, sprinkle with rub if desired, and grill to your liking.
The sirloin makes them lower in fat, the chuck gives them more flavor and the ice keeps them moist.
To make the rub combine seasonings and place in a jar. Use to sprinkle on chicken, fish, pork or beef before grilling.
Makes about 2/3 cup and seasons about 4 pounds of meat. Enjoy!