Griessnockerl - Austrian Style Semolina Dumplings
gemini08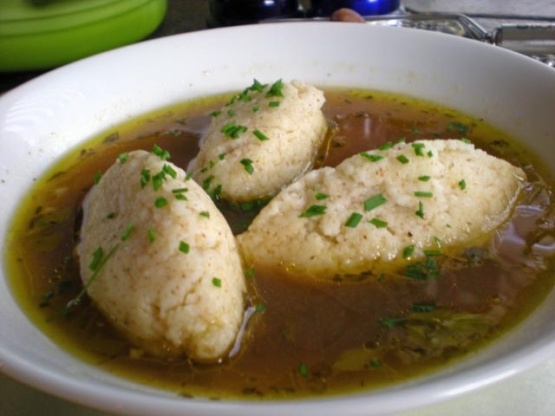 Another famous Soup Dumpling, found in every Gasthaus throughout Austria and Bavaria. Serve it in a bowl of home made chicken- or beef stock, sprinkle some chopped chives over and enjoy as first course.

My husband lived in Tyrol as an exchange student in high school and absolutely loves Austrian food. I'm always on the lookout for good Austrian recipes. According to him, this is the closest one so far to the knodel soups his Tyrollean house mother used to make. Thanks!
Beat the eggs and melted butter until foamy, stir in the semolina, season with salt, pepper and freshly grated nutmeg to taste. Mix well and let rest for 10 minutes.
Form oval quenelles with the aid of 2 teaspoons, drop them into boiling water, don't overcrowd the pot, they will plump up.
Cook for 10 - 15 minutes or until they rise to the surface.
Remove from the heat, add one cup of cold water to the pot and let stand for another 10 minutes, by now they should have doubled in bulk.
Drain and serve in broth, sprinkled with chives and grated nutmeg.
Note: I always make one extra dumpling that can be cut open to check for doneness. If the sample dumpling is not soft inside, leave them a little longer. It should be soft but not mushy.