loof751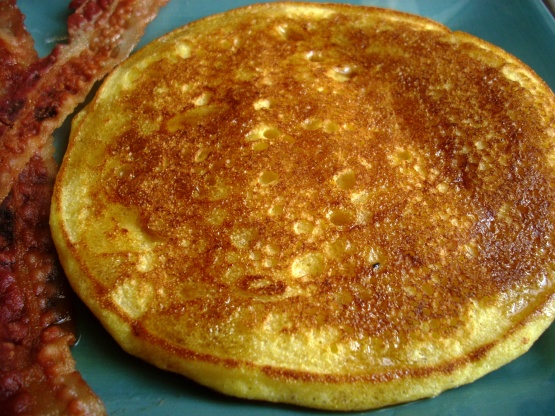 Over time I had developed a vague impression that griddle cakes (as opposed to pancakes) was made with cornmeal. I don't know if that is an accurate definition or not, but these are the griddle cakes that I came up with when I tried to make some. They are very good served with syrup or honey.

These griddle cakes are terrific! I made the recipe just as specified and my cakes came out moist and fluffy. The brown sugar adds a perfect touch of sweetness. I served them with syrup and enjoyed every bite - thanks for posting this recipe! Made for Fall PAC 2008
Lightly grease a heavy nonstick pan (i.e. spray with non-stick cooking spray), and start heating it at medium-high heat.
Sift together the dry ingredients in one bowl.
In a separate bowl, combine the eggs, milk, and butter.
Now combine the dry and wet ingredients together, stirring just enough to moisten the dry ingredients. Do not worry about getting rid of all of the lumps. (It is important to combine the dry and wet ingredients separately, and then combine them together to reduce the amount of time that the gluten in the flour has to toughen up.).
Pour the batter onto the hot pan in about 4" circles.
Flip the cakes when they get bubbly on the one side.
Continue cooking until the bottom browns. I usually peek by pulling up the edge with a spatula.
If the griddle cakes are cooking too fast, reduce the heat.
Never flip the griddle cakes more than once as this will make them heavy.
Serve the griddle cakes immediately even if this means that people have to eat at different times because there are not enough to go around when the first batch comes off of the griddles.