Sara 76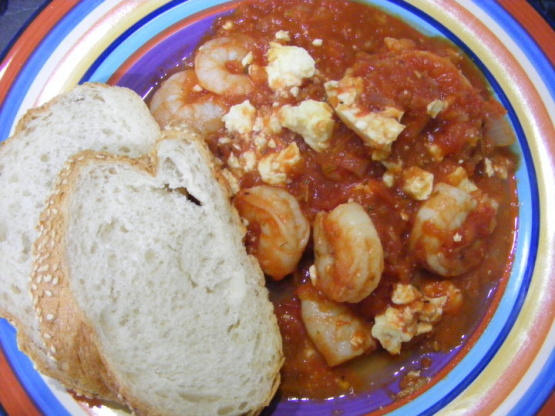 This is my husband's creation and it is so good. Make sure to serve it with some nice crusty bread to mop up the sauce. We serve it as a starter but it could easily be a main dish with greek orzo. The fresh herb and real lemon juice make a big difference.
Peel and butterfly the shrimp.
Set shrimp aside.
Saute the onions and garlic in 2tsp olive oil.
Add tomatoes and wine to onion and garlic and cook for 1/2hour over low heat (the longer the better the sauce.
saute shrimp until just barely pink, add to sauce.
Add fresh oregano,lemon juice and zest
Pour everything into baking dish and crumble the feta on top.
Bake 350 for 10-15 minutes.