Greg's Good As Gold Spaghetti Sauce
Boomette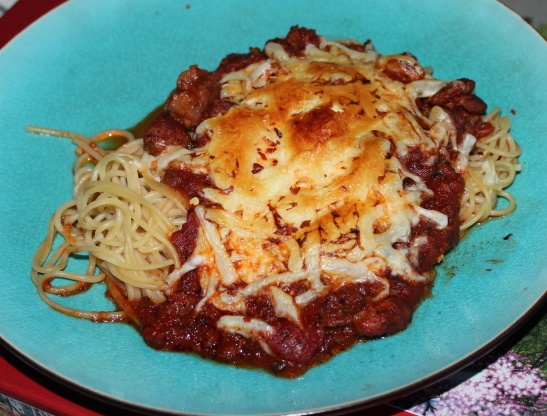 We played with many recipes and created this Spaghetti Sauce. It great to use for cooking a large batch and giving to those who have suffered a illness or death in the family.

This is great!! I had 5lbs of hamburger in the freezer waiting for me to make a spaghetti sauce to can.I had about 4 lbs of Italian sausage. I bought a lb of fresh mushrooms because I always add them, I just happened to have all the other ingredients too. Here`s a tip that some might want to try, I use my cuisinart and after browning the meat I put about 2lbs at a time in it and just pulse it barely for three pulses, Its always so time consuming to stand over the frying pan trying to break up the big chunks, I also do this when I add sausage to my dressing.I also do that with the canned tomatoes and of course the onions and mushrooms, it just makes things so much easier and if your canning there`s enough work that goes into it. Your recipe is going into my Favorites and I will definitely make it again
Heat the oil in a large Dutch over or stock pot with heat set at medium.
Add the diced garlic, diced onions and sliced mushroom and brown.
Add the ground beef and Italian sausage with the skins peeled off it links.
Crumble the meat as you are browning over a medium to medium high heat.
Brown till there is no pink on meat.
Add the cans Italian tomatoes, tomato puree a tomato paste and the sliced olive and mix well.
Use a little water to clean cans and add to sauce.
Add the dry red wine.
Add the basil, oregano, parsley, red peper flakes, thyme, paprika, sugar, salt and bay leaf.
Allow the spices to cook in and let simmer on medium-low heat covered.
I normally let sauce simmer for 2 to 4 hours.
Boil water and cook thin spaghetti per instruction.
Remove the bay leaf Garnish the top with grated Romano or parmesan cheese.