Greeny's Peanut Butter Banana Bread
COOKGIRl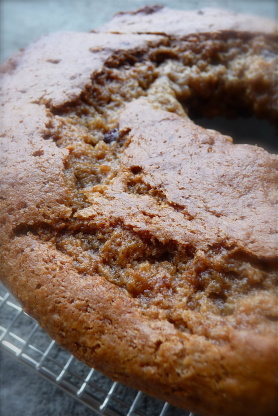 A great twist on an classic favorite. I had planned to make Cooking Light's recipe from their October 2010 issue, but I had to substitute a bunch of ingredients. It still came out great!

This was a breeze to pull together. I used half unbleached white sugar and half brown sugar. Added 1/2 teaspoon vanilla extract, too. I cut the recipe in half and used a mini-tube pan to bake the bread. Took about 35 minutes to bake and covered the bread the last fifteen minutes. Delicious with a cup of freshly brewed coffee! Thanks for posting!
Preheat oven to 350°.
To prepare bread, combine first 5 ingredients in a large bowl; beat with a mixer at medium speed. Add granulated sugar, Splenda, and brown sugar; beat until blended.
Weigh or lightly spoon flour into dry measuring cups; level with a knife. Combine flours and remaining ingredients in a small bowl. Add flour mixture to banana mixture; beat just until blended. Add chocolate chips, if desired.
Pour batter into a 9 x 5-inch loaf pan coated with cooking spray.
Bake at 350° for 1 hour and 5 minutes or until a wooden pick inserted in center comes out clean. Remove from oven; cool 10 minutes in pan on a wire rack. Remove bread from pan; cool.