Boomette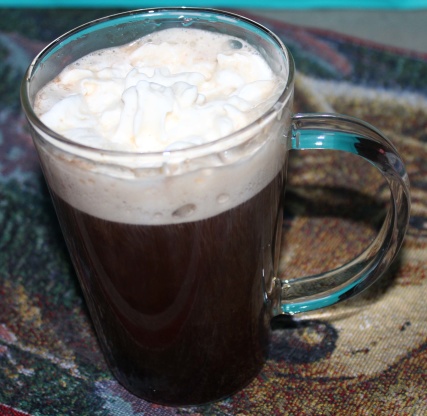 I got this recipe from the Official Greenland Travel Guide website. It was described as Greenland's version of an Irish Coffee. It is stronger than the well-known Irish dessert coffee and it is finished off with a liquid flame of Grand Marnier that has been set alight – the coffee's final ingredient.
I cheated just a little bit. I used all the ingredients but I didn't ignite the alcool. I'm too afraid of that lolll And on my photo, I had to double the ingredients since the mug was too big loll Thanks NorthwestGal :) It was so yummy. Made for PAC Spring 2013
1⁄3 ounce whiskey
1⁄3 ounce Kahlua
1⁄3 ounce Grand Marnier
3 1⁄3 ounces hot coffee, freshly brewed
whipped cream
Pour a measure of whisky into a large glass with a stem (Bordeaux). Warm the whisky carefully over a candle or a spirit burner and set it alight.
Let it burn for a moment, after which Kahlúa and hot coffee without sugar should be added.
Then carefully pour in a thick layer of gently whipped cream.
Finally, add burning Grand Marnier from a large sauce spoon lifted high above the glass – preferably in a dark room so that the blue Grand Marnier flame is clearly visible.