Greenfield Village Dandelion Soup
jenne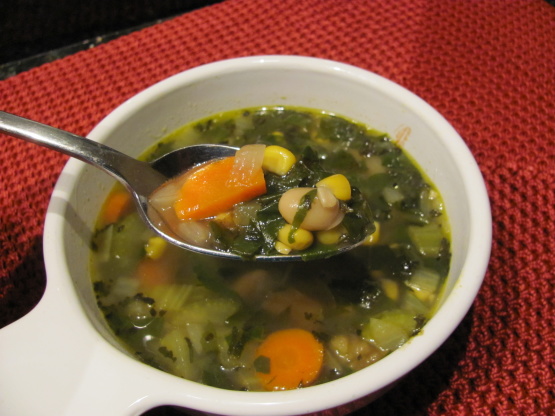 This soup is served at the Taste of History restaurant at Greenfield Village in Dearborn, Michigan. I found this recipe on a recipe card on display inside the restaurant. You can substitute spinach for the dandelion greens if they are not available. I usually add more vegetable stock (about 2 to 4 cups) and more corn. Dried herbs can substitute for the fresh--use 4 teaspoons dried basil and 2 teaspoons dried oregano.
I would add them at the end....but either way is fine. I actually think sauteing them with everything in the beginning would add some extra flavor to them
1

cup celery, diced

1

cup carrot, diced

1

cup onion, diced

4

tablespoons fresh basil, minced

2

tablespoons fresh oregano, minced

1

tablespoon cumin

4

tablespoons garlic, minced

1

tablespoon vegetable oil

4

cups dandelion greens, chopped

4

cups spinach, chopped

8

cups vegetable stock

1

bay leaf

1

cup corn kernel

2

cups white beans, cooked

1

cup potato, diced

1

teaspoon salt

1

teaspoon black pepper
Saute the celery, carrot, onion, basil, oregano, cumin and garlic in the vegetable oil until tender. Add the stock, bay leaf, corn, beans and potatoes and simmer until the potatoes are tender. Season with salt and pepper.