Boomette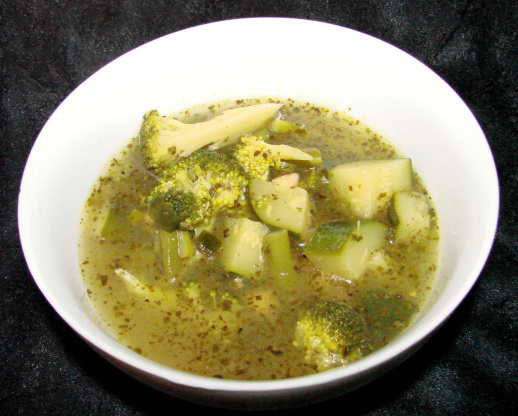 A recipe from Ricardo that looks very simple and I'll like to try.

Lovely recipe! I, too, used only 4 cups of broth, and it turned out that while I thought I had green beans in the freezer, they were in fact peas. So, in went a cup of peas (hey, they're green too! ;-)). I actually found that the sweetness of the peas worked really well with the other ingredients - and adding freshly ground black pepper just before serving really made a difference in the taste! Served with cheese on rye and very much enjoyed! Thanks Boomette!
In a saucepan, brown the green beans in oil about 4 minutes at medium heat. Add remaining veggies and keep cooking 1 minute.
Add chicken stock and pesto. Bring to boil and let simmer until the broccoli is tender, 2 to 3 minutes. Add pepper.