Green Veggie Stir Fry with Mushrooms
Bergy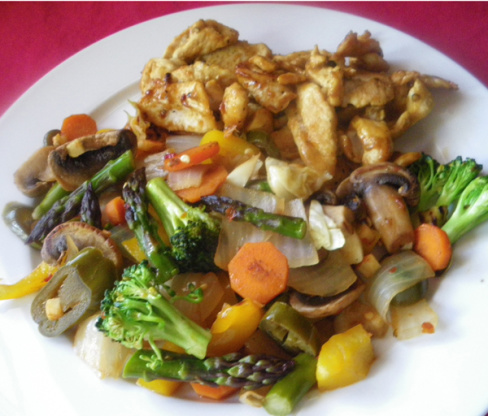 I opened the fridge, looked at the leeks in the garden and threw this stir fry together. It went over well so I thought I would post it. The colored sweet peppers are just to add a bit of color but they do add flavor so include them even if you only use green. Bragg that is mentioned as an option to Soy sauce is low sodium Soy sauce and can be purchased in Health food stores and some grocery stores

Top Review by PanNan
What a delicious way to use up produce odds and ends in the refrigerator! THIS IS HOT AND SPICY! We loved it, and DH said the heat is just perfect, but I think I'll cut back the sambal oelek next time, and let him add more at the table. I didn't have vodka on hand, and used a little sake instead. Worked perfectly. Thanks for creating and sharing this great recipe.
vegetable oil cooking spray

1

cup mushroom, sliced
1⁄2 cup onion, chopped

2

tablespoons garlic, smashed

2

tablespoons ginger, finely chopped
1 1⁄2 tablespoons sambal oelek
1 1⁄2 cups cabbage, chopped

2

cups leeks, white part only,chopped
1⁄2 cup celery, chopped

2

tablespoons hot banana peppers or 2 tablespoons jalapenos, chopped

2

tablespoons soy sauce or 2 tablespoons Braggs liquid aminos
1⁄4 cup mixed red peppers or 1⁄4 cup yellow peppers or 1⁄4 cup orange sweet bell pepper, chopped (Choose your own 2 colors)

3

tablespoons vodka or 3 tablespoons chicken stock
Heat a wok or frypan, lightly spray with oil.
Add mushrooms and onion and saute 3 minutes.
Add Garlic, ginger and Sambal Oelek, mix in with mushrooms and onions saute 30 seconds.
Add Leeks& Cabbage, stir, cook 3 minutes.
Add soy sauce and stir.
Add peppers, mix in, cook 2 minutes, stir as the veggies cook.
Season with salt& pepper.
Add vodka/chicken stock cover for 1 minute& serve.