Green Vegetables with Sesame-Ginger Dressing
Food.com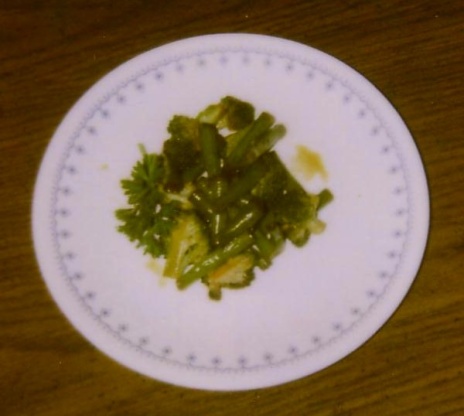 This is a delicious and healthy side dish with an Asian flair! Prep time includes the time to cut up the broccoli and green beans if using fresh.
Whisk dressing ingredients together and set aside.
If using frozen green beans and/or broccoli, follow microwave directions on packaging.
Microwave fresh green beans with water in covered bowl on HIGH for 2 to 3 minutes.
Stir the green beans and add the fresh broccoli.
Cover and microwave together on HIGH for 2 minutes.
Drain green beans and broccoli.
Mix in dressing while vegetables are still warm.
Let vegetables chill in refrigerator until ready to serve, or at least 5 to 10 minutes.