Annacia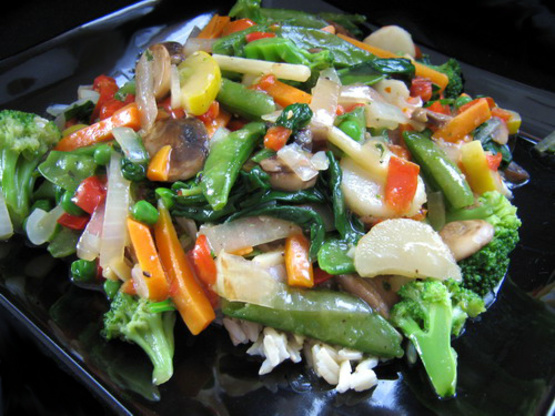 You can use any green veges for this dish. Had to include 3 specifically for the recipe to be posted. Use whatever is in season. eg chinese cabbage, asparagus, broccoli, snow peas, capsicum etc. Traditional Chinese stir frys do not contain more than three types of veges. I have heard it said that more than three would look like you are cleaning out the fridge. This dish is naturally gluten free. If adding sauces such as soy before serving- check they are GF too.

Looks like this recipe is popular for the ZWT 4 Add More Veggies Challenge. It was my base recipe also. I used broccoli, sugar peas, English peas, spinach, carrot, water chestnuts, bamboo shoots,yellow summer squash, red bell pepper, mushrooms and onion (no sugar). This was served over steamed brown rice for a great dinner. Made for the Diabetic Forum "Add More Veggies" Challenge (ZWT4)
Heat the wok a minute or two. Then add the peanut oil. Gentley swirl the oil around the wok to coat the sides.
If you are using aromatics such as the ginger and garlic, add them at this point and stir-fry for about a minute to release the flavours.
Add your selected vegetables. Immediately tumble the vegetables until they have all been glazed with the oil.
Add a little sugar and about 1/2 cup water. Cover and continue to cook using a high heat for another 2 -3 minutes.
If desired you can add a little soy sauce or oyster sauce before serving.