Green Tomatoes with Indian Spices
PaulaG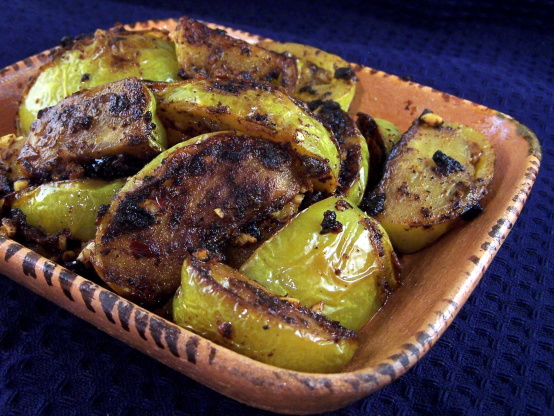 Serve this as part of an Indian dinner or as a vegetarian main course with rice. It is not easy to buy green tomatoes here, I have once tried to make this with red tomatoes, don't bother it will turn into a pulp, you want the tomatoes still in a chunky state when cooked. To my taste buds this is hot and spicy, adjust the heat to your own preference

I wish I could thank Pets's R'us for her wonderful recipe, but she passed away on 7/14/11, so sad. This recipe is delicious, I love green tomatoes and have trouble finding them commercially in the area where I live, but we visited a friend who had a ginormous vegetable garden full of green tomatoes that he did not want and I went home with at least 5 pounds. The recipe is easy to make and full of wonderful flavors, rich with spices and garlic, yum. A true keeper, whenever I can find some green tomatoes.
Wash and quarter the tomatoes, if they are very large, halve the quarters again.
Heat the oil in a wok or large frying pan; add the fenugreek and cumin seeds.
When they start to crackle add the tomatoes and green chilies, fry this for 2 minutes.
Add everything else except the garlic, stir, cover and cook for approx 6 minutes.
Uncover, add the garlic, turn up the heat and stir fry for 2/3 minutes, you will see that the oil which was separating first will now blend and make it more saucy together with the juices from the tomatoes.