Green Tomato Sweet Potato Bake
Kayne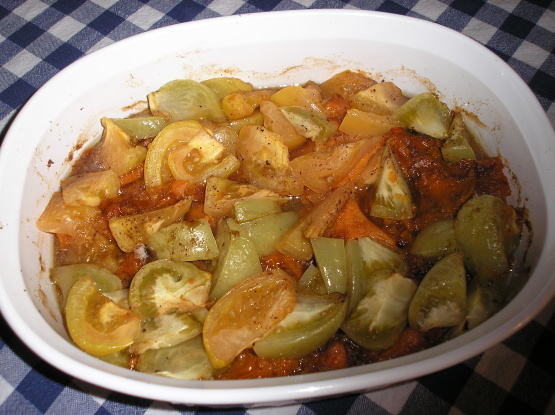 With the season for homegrown tomatoes here, this is a good recipe if you cannot wait for your tomatoes to ripen or at the end of the season if you just have to use those last tomatoes. I use a lot of recipes from cook booklets, which I love to collect. This is another one from "Old Fashioned Tomato Recipes". Cook time does not include time for cooking sweet potatoes.

I love sweet potatoes, and green tomatoes are growing on me...but I still haven't decided whether or not I like this recipe! I did finish it off, but I'm not inclined to make it again. Something just didn't quite work...maybe the balance of tart to sweet was off? That could depend on the tomatoes and just how green they are, so I've opted to not assign any stars. If I do make it again with a different variety of tomatoes, I'll update the stars.
Preheat oven to 375 degrees.
Arrange sweet potato slices and tomato chunks in a buttered casserole.
Sprinkle with brown sugar, salt and nutmeg.
Dot with slivers of butter.
Bake for 45-50 minutes.