jonesies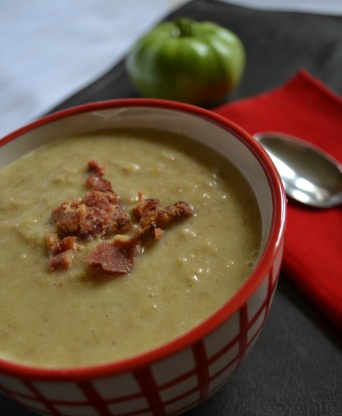 Perfect for fall weather, or when your tomato crop is taking too long to turn. Freezes BEAUTIFULLY!

I doubled the recipe, using 2 large onions (instead of scallions), extra garlic, and about a pound of very meaty bacon ends (trimmed of excessive fat). Kielbasa works wonderfully with this, too.
To make it heartier, I'll add a can or two of cannelini beans or Great Northerns.
WONDERFUL FLAVOR! A dollop of light sour cream finishes it beautifully.
I've got about 200 pounds of green tomatoes, and I think I'll make this a time or two before they ripen.
Mmmmmmmmmmm!
Heat oil in a large 4 quart pot over medium high heat.
Add bacon and cook until browning.
Add scallions, garlic and bay leaf until all is tender and cooked through.
Add salt, pepper and tomatoes and stir well, then add broth and water.
Bring to a simmer and cover partially for 35 minutes.
Taste to adjust seasoning if need be.
Enjoy!