Green Tomato Relish (Hot Dog Relish)
SimplyME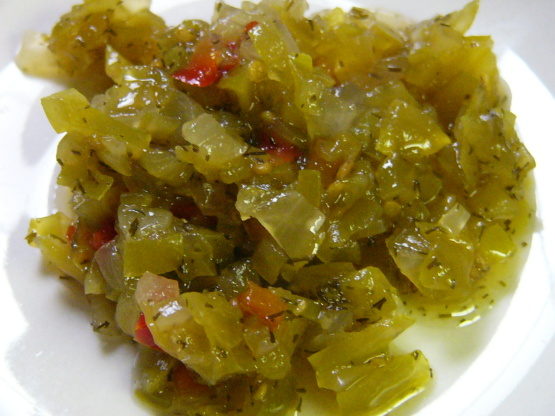 I found this recipe in a canning book. It look easy, so I tried it. It tastes like the relish in the store. Plus, you can use all those green tomatoes you look at and hate going to waste.

I have to agree you should use a red pepper, not green. Also, instead of prepared mustard and celery salt, I used mustard seeds and celery seeds. It tastes just like what I bought at Silver Dollary City in Branson, Missouri. Yum!
Combine tomatoes, onion, and pepper in large bowl.
Sprinkle salt over vegetables, mix in,and let stand 1 hour.
Drain vegetables.
Combine drained vegetables, sugar, mustard, and celery salt in a large pot.
Tie cloves in cheesecloth and add to mixture.
Stir in vinegar and simmer for 20 minutes.
Take out spice bag.
Pack hot relish into hot jars.
Leave 1/4 inch headspace.
Place canning lids on jars.
Process half pints for 10 minutes in hot water bath.