Green Tomato, Pineapple, Red Pepper Relish/Chutney
Rita1652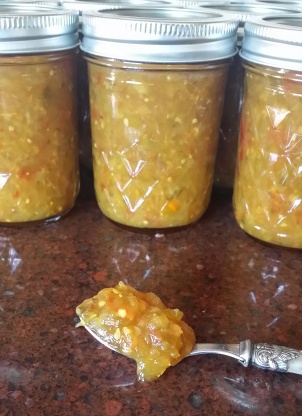 Last of your garden tomatoes can be used to make this sweet and spicy Asian relish/chutney great on grilled chicken, pork or fish. Top a Burger with it.
Prepare water bath and sterilize 8 ½ pint jars.
Optional chopping: place ingredients except cornstarch in food processor in batches and pulse.
Place all ingredients except for the herbs and cornstarch in a large pot.
Bring to a boil and cook till reduced and thickened.
Stirring not to burn for about 45-60 minutes. If not thick enough add cornstarch. Add fresh herbs of choice.
Pour relish into hot jars leaving 1/2 inch headspace. Wipe rims and place warm lids on jars and screw on bands. Place in water bath cover by 1-2 inches of water for 10 minutes. Let rest counter top overnight. Check for sealing, label, and store in pantry for up to 1 year.