WiGal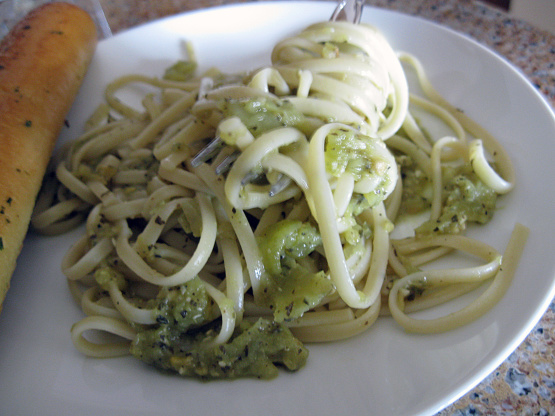 Excellent tangy sauce and a great way to use up those fall green tomatoes. You can add cooked chicken into the sauce to make it heartier if you like.

Top Review by WiGal
First frost warning was last night so wanted to make good use of dh's work with tomatoes! Tangy, delicious, easy, and healthy. Am going to store this in veggies cookbook plus leftovers cookbook b/c if I have leftover basil pesto this would work great for second roasting phase. Didn't add leftover chicken but can see that would be good too. Thank you 2hot2handle for sharing. Made for Spanish forum event.
Preheat oven to 300°F.
Spray a large shallow baking dish with cooking oil. Lay the tomatoes in the dish and season with salt and pepper. Drizzle with the olive. Bake uncovered until tomatoes soften somewhat, about 25 minutes.
In a mini food processor, chop the garlic and basil together. Sprinkle the garlic/basil on top of the tomatoes. Cover with foil and bake until soft and lightly carmelized, another 25 minutes. Remove from oven and place in a food processor or blender. Pulse a few times, but leave the sauce chunky. Put in sauce pan to reheat and add cooked chicken if desired.
Serve over hot cooked pasta and top with freshly grated Parmesan.