gerry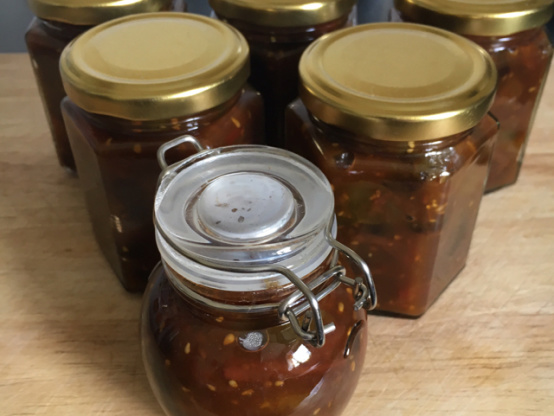 This is a delicious and versitile condiment. I find it especially good with grilled pork loin. This is a great way to use your green tomatoes in the garden at the end of the season. I found this in a cookbook I got at the library called THE COUNTRY STORE. (Unfortunately I did not write down the author's name.) Cooking time does not include processing time.
Quarter the tomatoes and place them in a large pot.
Quarter, core and chop the unpeeled apples and add them to the tomatoes.
Chop the onions and add them to the tomatoes with all the other ingredients.
Heat gently, stirring until all the sugar has dissolved.
Bring to a boil and simmer uncovered, stirring occasionally, for one and half hours until the chutney has thickened.
Pour the chutney into warm, sterilized jars.
Seal (canning process) immediately.