Parsley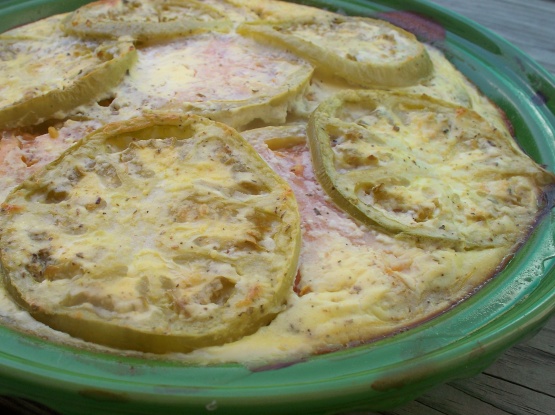 This is a very tasty pie and may be used as the main course or a side dish.

This recipe is a good starting point, but it was bland. On the plus side, it made up into a firm, pretty dish that looked well on the table and held well as time for seconds came around. I particularly liked the way the tomato slices were cooked through but still firm and not mushy when the egg mix was set. On the other hand, it needed a considerable amount of salt at the table -- which I only rarely use -- and would have benefited from more assertive flavors. Garlic, Italian seasoning, black pepper, and either Parmesan or sharp cheddar in addition to the cottage cheese would be my choice for another go round.
Brush bottom and sides of 9-inch pie pan with oil.
Arrange tomato slices in pie pan.
In a separate bowl, whisk together eggs, milk, cottage cheese and oregano.
Slowly pour mixture over tomatoes.
Bake at 375ºF for about 40 minutes.